CUSTOM BUILT EXHAUST SERVICES FOR EXPERIMENTAL AIRCRAFT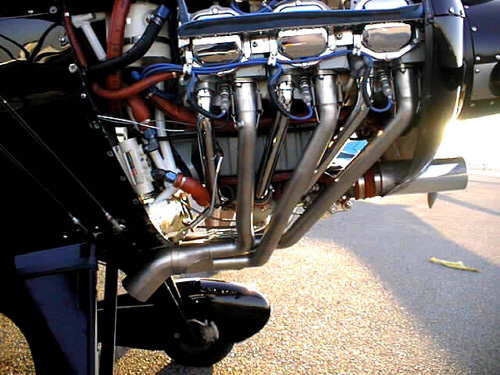 Replace that worn out exhaust system with a brand new expertly crafted 321 Stainless Steel exhaust system.
CUSTOM AIRCRAFT PARTS has many variations of exhaust systems for both Lycoming and Continental 4 & 6 cylinder engines. However there will always be a need to build a custom one of a kind system. Since we make all of our own exhaust components and have a huge selection of fixtures which includes engines. We can custom build your exhaust system to fit any experimental aircraft.
Here is how to proceed: If we don't have a sample to work from, the best way we have found is to take photographs of the engine installation from every possible angle you can with the engine cowling off. These photos need to show the engine, engine mount and firewall for reference. Next shoot some photos with the cowling on so we can see any potential problem with the cowling. Make a simple sketch with some measurements of the areas that have the least amount of clearance to the lower cowling. These areas are usually the intake tubes on the forward cylinders. Your sketch should include measurements straight down from each exhaust port to the lower cowl. We also need the measurements requested on our web page Exhaust System Layout Also indicate where you would like your tailpipes to exit your cowling.